The series of residencies of the 11th edition of Krakow Jazz Autumn will kick off with composer and double bass virtuoso Barry Guy (27-30 October). The talented Briton has collaborated with, among others, Tony Oxley, Evan Parker, Mike Westbrook, Peter Kowald, Trevor Watts, but also with the BBC Symphony Orchestra, London Sinfonietta, Monteverdi Choir & Orchestra and soprano Jane Manning. He had also been a part of the Michael Nyman Band. Together, they recorded the soundtrack to The Draughtsman's Contract (1982), directed by Peter Greenway.
He is also the founder and artistic director of the 21-piece London Jazz Composers' Orchestra. During his four day residency we will hear Guy's monumental masterpiece "The Blue Shroud", as well as compositions from the album "Three Pieces for Orchestra", recorded with the London Jazz Composers' Orchestra. We'll have a chance to hear The Blue Shroud Band at the residency's finale at the Manggha Museum of Japanese Art and Technology. The three evenings before the finale will see performances from Barry Guy's smaller, improvised ensembles, taking place at Alchemia.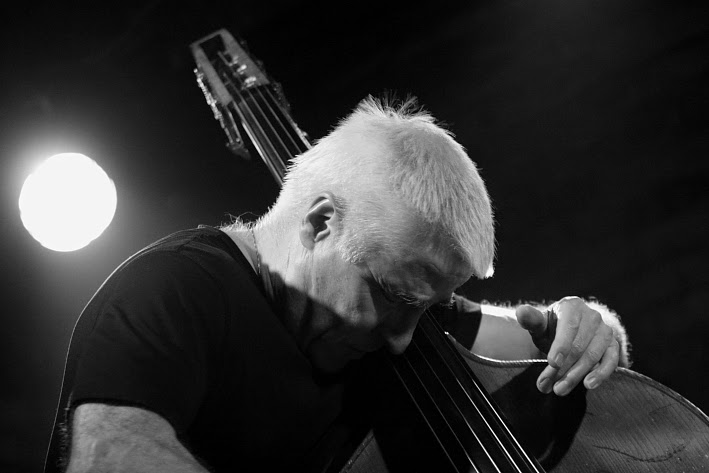 The inspiration for "The Blue Shroud" was the painting Guernica by Pablo Picasso, which commemorates the bombarding of the Basque city. Many years later, a blue drape was hung over a tapestry reproduction of the Guernica painting in the United Nations building before U.S. Secretary of State Colin Powell delivered his case for invading Iraq. To Guy, this represented an extreme example of cowardice. Both of these stories became the inspiration for the emotional composition entitled "The Blue Shroud".
A performance of the piece was recorded during Warsaw's Ad Libitum Festival in 2015, mixed by renowned sound engineers Jarosław Regulski and Zbigniew Kusiak. The album was released by the Swiss label Intakt. It's also worth mentioning here that the Blue Shroud Band's long-awaited performance at Krakow Jazz Autumn in 2014 turned out to be one of the most important events in the festival's history.
"Three Pieces for Orchestra" was released in 1997. The album opens with the piece "Owed to J.S." – a tribute to John Stevens, creator of the Spontaneous Music Ensemble. Some of the musicians involved in the making of the record include Marc Charig, Evan Parker, Trevor Watts and Philipp Wachsmann. Guest performers included Marilyn Crispell (grand piano) and Maggie Nichols (who will perform this year with Les Diaboliques).
The fourth and final part of the residency will be a performance of "Three Pieces for Orchestra", at the Manggha Museum of Japanese Art and Technology (30 October). Barry Guy will be joined on stage by the renowned Greek singer and composer Savina Yannatou, as well as Guy's long-standing artistic collaborator Maya Homburger, Catalán pianist Agustí Fernández, violinist Fanny Paccoud, drummer Ramon Lopez and saxophonist Torben Snekkestad.
After the final show there will be an open meeting with the musicians. The Contemporary Music Agenda is an initiative formed in the festival's seventh year, aimed at creating a forum to discuss music, its future, its place in the media and the most efficient methods of promotion. The discussion will be moderated by Janusz Jabłoński. (Polskie Radio Dwójka)
BARRY GUY BLUE SHROUD – small improvised groups                      
Savina Yannatou (Greece) – voice
Michel Godard (France) – tuba and serpent
Ben Dwyer (England) – guitar
Agustí Fernández (Spain) – piano
Torben Snekkestad (Norway) – soprano and tenor saxes
Michael Niesemann (Germany) – alto sax and oboe
Jürg Wickihalder (Switzerland) – soprano, alt & tenor saxes
Percy Pursglove (England) – trumpet
Julius Gabriel (Germany) – baritone and soprano saxes
Maya Homburger (Switzerland) – violin
Fanny Paccoud  (France) – viola
Lucas Niggli (Switzerland) – percussion
Ramon Lopez (France)  – percussion
Barry Guy (England) – bass
DATE: 29.10.2016
VENUE: ALCHEMIA
Tickets  40 PLN in advance, 50 PLN on the day of the show