Hamid Drake – is associated with both the Chicago jazz and improvised music scene, and the ethnic music scene. He studied under the tutelage of various musicians, focusing more on exotic percussion instruments than a conventional kit.
His instructors were: Harry Hawthorn (trap set), Raman Papaiah, Ustad Kedar Khan and Ranchod Das Pandya (tablas), Howie Levy (congas) and Hamza El Din (frame drums). From1976, he collaborated with Adam Rudolph, with whom he created a duo. From 1977, he was a member of The Mandigo Griot Society. From 1978, he also occasionally collaborated with Don Cherry.
He is a member of the DKV (Drake/Kessler/Vandermark) Trio. He is the percussionist in various Peter Brötzmann ensembles, as well as being a member of his Tentet and the Die Like a Dog quartet. He has also collaborated with such musicians as: Borah Bergman, Joe McPhee, Bill Laswell and Marilyn Crispell.
Apart from jazz, he is interested in various types of ethnic music, mainly of an African pedigree, although he is also not averse to playing reggae.
Of particular interest are Drake's collaborations in various kinds of duo format with Michael Zerang (a percussion duo), Joe McPhee, Borah Bergman, Assif Tsahar, Jeb Bishop or William Parker. He is currently regarded as one of the most interesting percussionists around, whose playing largely resists all comparison. He regularly turns to both methods familiar from free jazz groups and to ethnic rhythms and instruments.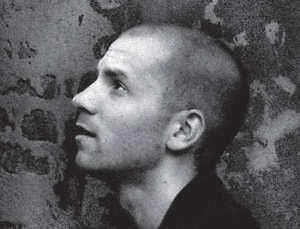 Wacław Zimpel – a classically trained clarinettist and composer, currently one of the most recognizable Polish artists on the global improvised music scene.
Most of his inspiration is drawn from the sacred and ritual music of various cultures. In his compositions he often alludes to early composers, creating individualized polemics or commentaries on musical traditions.
He has collaborated, among others, with Ken Vandermark, Joe McPhee, Michael Zerang, Klaus Kugel, Steve Swell, Bobby Few, Perry Robinson and Mikołaj Trzaska. The idea for creating Hera dropped into his head when he was travelling around Sicily and visiting local shrines, once venues for the cult worship of a Greek goddess.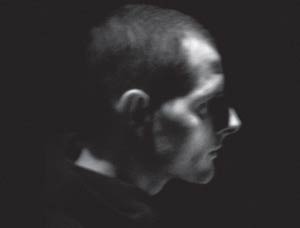 Paweł Posteremczak– currently the most interesting younger generation saxophonist on the Polish scene.
His main hallmark is an exceptionally lyrical and ecstatic style, a continuation of the tradition started by great saxophone masters like John Coltrane or Pharoah Sanders.
His playing is hypnotic. With unusual awareness, he creates unique phrases that are difficult to forget.
He collaborates with such musicians as Mikołaj Trzaska, Klaus Kugel, Raphael Rogiński, Janusz Stefańsk or Robert Kusiołek.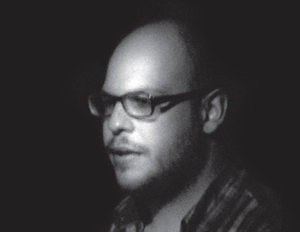 Ksawery Wójciński – an unusually versatile, classically trained double bassist, well acquainted with styles spanning from early music to contemporary improvised music. Wojciński possesses a very characteristic deep sound and exceptional sense of rhythm bringing to mind the great African-American double bassists. His virtuoso bowing technique allows him to draw out melodic lines that enable him to enter into dialogue with solo instruments on equal terms. He has collaborated with such musicians as Klaus Kugel, Michael Zerang, Raphael Rogiński and Mikołaj Trzaska.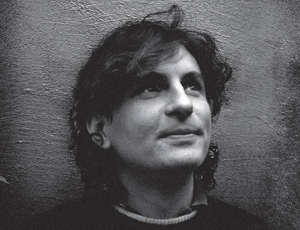 Paweł Szpura– a percussionist whose style is a compilation of many traditions. In his playing can be heard inspirations from the African interior and Maghreb, Turkish traditions and also allusions to American rock percussionists of the 60s and 70s.
Szpura employs these stylistic features with unusual levity, surprising the listener with rhythmic developments or leading them into a deep trance, in the process becoming a continuator of the tradition set by Ed Blackwell and Hamid Drake.
He has collaborated, among others, with Mikołaj Trzaska and Raphael Rogiński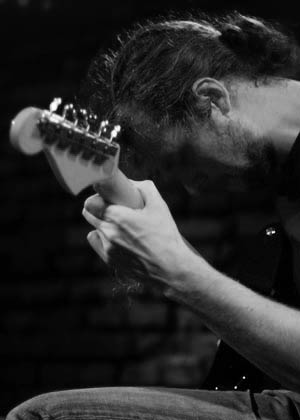 Raphael Roginski – guitarist, composer and performer, improviser, animator of culture and researcher into musical folklore.
From the very beginning of his creative activity, he has mainly focused on jazz and blues based improvisation and on ethnic and folk music.
He feels a deep connection with Jewish culture and seeks out a place for it in his activities. This quest has lead to two projects of which he is the leader, Shofar and Cukunft. The primitive music of America – blues and rock of the 60s – makes up another significant portion of Rogiński's inspiration. The inspiration provided by American experimental music (Harry Partch, Henry Cowell, and others) led to the formation of the Spinalonga group. His exploration of early music bore fruit in the form of the Rogiński gra Bacha (Rogiński Plays Bach) project, in which Bach's music was performed on a prepared guitar.
This musician is also simultaneously involved in projects associated with the international new jazz scene. His compositions, improvisations or interpretations frequently illustrate art events, for example documentaries and cartoons (e.g. Man Ray, Viking Elling), performances (e.g. Jerzy Kalina), traditional and multimedia theatre (e.g. the Lothe Lachmann Poza Video-Theatre, Stary Theatre in Kraków) and the spoken word (e.g. Tadeusz Różewicz, Mieczysław Myśliwski, Mieczysław Abramowicz, Andrzej Stasiuk). Most of his concerts are part of his own projects, in which he appears solo or as the leader of groups. Currently, his permanent musical projects are the earlier mentioned Shofar, Cunkunft and Spinalonga, and also a trio featuring Macio Moretti and Marcin Masecki, the Sisters duo and concerts for solo guitar.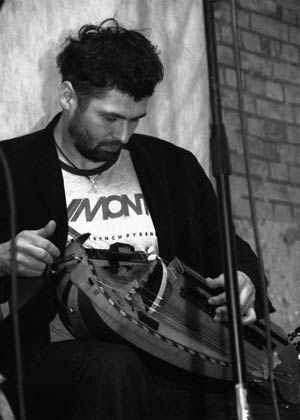 Maciej Cierliński – experimental musician who specialises on the hurdy gurdy, but also plays the oud, barbat, sitar and duduk. Leader of the Maćko Korba music project and co-creator, together with Tomasz Zygmont, of the Lirnicy XX wieku (Lyrists of the 21st Century) project. Co-founder of the Yerba Mater and Stara Lipa groups. A member of the groups Sláinte! and Village Kollektiv.
During his career, he has collaborated with many leading exponents of alternative culture. In 2006, he was invited to collaborate with Tony Gatlif (director of the films Latcho Drom, Vengo and Exils) on the premiere of the film Transylvania. He has participated in many music and theatre projects (Makata, Studnia O) and for years has been collaborating with Casimir Potomski and Anna Abramowicz on the provision of musical and dance workshops for children and young adults. A permanent collaborator with the following groups: Kapela ze Wsi Warszawa, Eternal Tear and Swoją Drogą Trio. In August 2007, he appeared opposite Masala Sound System in Kostrzyn nad Odrą, during the 13th Przystanek Woodstock Festival. He also appeared as a guest at a concert given by the rock group Hey, which took place at the Roma Musical Theatre in Warsaw.
Lira Korbowa – a very ancient instrument dating back to the 10th century. The structure and sound of this three-part device have inspired philosophers, painters, visionaries and poets from the Middle Ages to the modern day. The hurdy gurdy is a "machine for generating sounds, noises and images" [Pascal Lefeuvre].
Wacław Zimpel

(Poland)

clarinet, bass clarinet
Hamid Drake

(USA)

drums, percussion
Paweł Posteremczak

(Poland)

soprano and tenor saxes
Ksawery Wójciński

(Poland)

double bass
Paweł Szpura

(Poland)

drums
Rafael Rogiński

(Poland)

guitar
Maciej Cierliński

(Poland)

hurdy-gurdy