Barry Guy is a double bass virtuoso who employs countless conventional and unconventional techniques. He feels equally at home in jazz as he does in classical and contemporary music.
He has collaborated with such musicians as Tony Oxley, Evan Parker, Mike Westbrook, Peter Kowald, Trevor Watts, Bob Downes, Dave Holdsworth and Chris McGregor, but also with the BBC Symphony Orchestra, London Sinfonietta, Monteverdi Orchestra, Academy of Ancient Music, Capricorn and the Richard Hickox Orchestra, as well as performing in a duo with soprano Jane Manning. He also belonged to the Michael Nyman Band, with which he recorded the soundtrack for The Draughtman's Contract (1982). He is founder and artistic director of the 21-person London Jazz Composers Orchestra.
The double bassist often performs solo recitals embracing improvised, baroque and contemporary music. He regularly appears in small groups like the Homburger/Guy Duo, Parker/Guy Duo and in trios with Marilyn Crispell and Paul Lytton, and with Jacques Demierre and Lucas Niggli. He recently created a trio with Agustí Fernández and Ramón López. He develops numerous projects with Mats Gustafsson.
In 2000, the musician founded the Barry Guy New Orchestra, which is made up of ten outstanding instrumentalists. The BGNO features Guy's closest collaborators: Evan Parker, Paul Lytton, Hans Koch, Mats Gustafsson, Herb Robertson, Johannes Bauer, Per-Åke Holmlander, Raymond Strid and Augustí Fernández.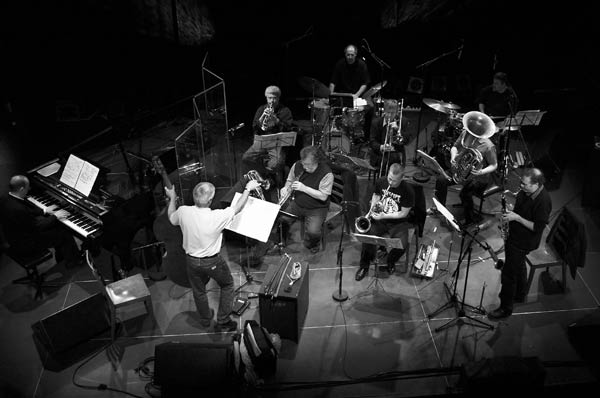 Agustí Fernández is a leading figure on the Spanish avant-garde scene. Agustí's music combines the sound of the 20th-century classical piano with free jazz improvisation based on marvellous self-penned compositions.
Evan Parker may be regarded as the most formidable saxophonist since John Coltrane. Parker is a true artist who, thanks to his marvellous technique and improvisational ingenuity, has been able to change our conception of saxophone playing.
Mats Gustafsson was fascinated from his earliest years by the Swedish jazz scene. Now he is one of the most recognised faces on the improvised music scene and the leader or co-leader of many splendid groups. His music combines a sense of melody and knowledge of the tradition with attention to detail and boundless energy.
Hans Koch began his musical explorations as a jazz clarinettist, but only reached complete fulfilment when he started playing in small ensembles. "A brilliantly virtuosic, independent saxophonist and bass clarinetist with a beautiful, clear and convincing tone, a first class improviser, differentiated, powerful, rich in ideas and multi-faceted" (Christian Rentsch)
Herb Robertson – one of the most famous and recognisable trumpet virtuosos and an innovative musician, composer and arranger on the avant-garde and jazz scenes.
Johannes Bauer – a master of drama and articulate trombone playing. He is a member of many splendid groups, of which the best known is Peter Brötzmann's Chicago Tentet.
Per-Âke Holmlander is one of the foremost representatives of the new generation of improvisers and performers of new music in Sweden. In both the new music and free improvising scenes, he is extremely well known as a tuba virtuoso capable of extracting a complete palette of musical colours from his instrument.
Paul Lytton – one of the first members of the British free improvisation and avant-garde experimental project based in 60s and 70s London. A virtuoso of the drums and percussion instruments. He is a member of many extremely well known groups and has taken part in the recording of over two hundred albums.
Raymond Strid – a leading figure on the Swedish improvising scene. "Raymond Strid is an explorer of sounds with an extremely sensitive ear, a percussionist who creates sonic rooms." (Jazz Review)
Trevor Watts is an English soprano saxophonist, jazzman and improviser. He is a versatile musician who finds fulfilment in all genres – from jazz to rock and blues.
Maya Homburger has lived in England since 1986, performing as a soloist with the best orchestras, led by John Eliot Gardner and Trevor Pinnock. Since meeting Barry Guy in 1988, she has successively worked on developing as a baroque violinist within the area of improvised music, giving concerts at jazz, baroque and new music festivals. She also runs her own excellent record label – Maya Recordings.
Barry Guy

(England)

bass, composer, director
Agustí Fernández

(Spain)

piano
Evan Parker

(England)

tenor & soprano saxes
Mats Gustafsson

(Sweden)

baritone & tenor saxes, fluteophone
Hans Koch

(Switzerland)

tenor & soprano saxes, clarinets
Herb Robertson

(USA)

trumpet
Johannes Bauer

(Germany)

trombone
Per-Âke Holmlander

(Sweden)

tuba
Paul Lytton

(England)

percussion
Raymond Strid

(Sweden)

percussion
Maya Homburger

(Switzerland)

baroque violin
Trevor Watts

(England)

alto sax